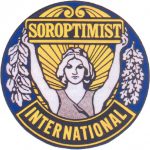 DID YOU SAY SOROPTIMIST?
Documentary film, 2006
30 minutes
Video, colour
Original version: French (without English subtitles)
Sale DVD: JURA-FILMS "Contact"
Scriptwriter and director Lucienne Lanaz
Collaboration Laurence Deonna
Camera / Sound Charles D. Fischer, Thomas Grüninger, Lucienne Lanaz, Christine Wipf
Sound Dieter Meier
Editing Lucienne Lanaz, Charles D. Fischer
Pianist Konstanze Eickhorst
Music Clara Schumann
Mixing Rolf Büttikofer, Studio son Zone 33, Berne
Postproduction Atelier vidéo TVF, Genève
With the participation of the Soroptimist club Genève-Rhône and members of other clubs.
SYNOPSIS
Soroptimist? What is it? Many still do not know what the word means, although it comes from the Latin "sorores optimae", and means the best sisters. The film is about a group of women from different countries, from all social strata and occupations, who have decided to pool their capabilities and put them to good use in humanitarian aid actions.
+ infos ( soroptimist-biel )