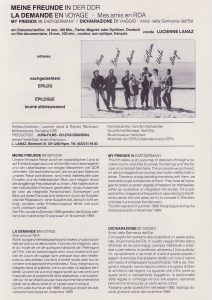 MY FRIENDS IN EAST-GERMANY
Documentary film 1989/90 – 100 minutes – 16 mm, colour
Sale : JURA-FILMS "Contact"
Scriptwriter and director Lucienne Lanaz
Collaborator scriptwriting Richard Ritterbusch
Protagonists Hans Aichinger, Uschi Dolge, Maya Löffler, Bernd Müller, Maria Planitzer, Wolfram Witt
Caméra Hans-Toni Aschwanden
Continuity assistant / editing Greti Klay
Music Hans Koch
Collaborators DEFA, RDA
With the participation of Jekaterina (Kati) Lemmo and the "Leiko" group of the Setu women singers of Viirska, Estonia.
SYNOPSIS
This film takes us on a journey of discovery through a socialist country and tries to convey the feelings and the life style of some East-Germans. The six people we portrayed, on various stages of our journey, are mostly intellectuals or artists. Thanks to a long-standing friendship with them, we were able to get a close look at them. They have all managed to obtain a certain degree of freedom for themselves, either as «outsiders» or integrated into society. It's a subjective film; images and the points of view belong to the Director alone. But she does not try to conceal it. She even criticises it and enjoys the discovery.
This film was shot in summer 1988, the epilogue during the historical events in November 1989.