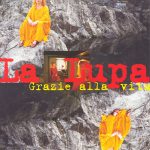 LA LUPA – Grazie alla vita
Documentary film, 1999, 90 minutes
Video, colour
Original version: Italian / German / French (with English subtitles)
60 minutes versions in French and German
Sale : JURA-FILMS "Contact"
Protagonist La Lupa
Scriptwriter and director Lucienne Lanaz
Counsellor Bärbel Dalichow
Music Fortunat Frölich, Walther Giger, Roger Girod, Fabian Müller, Astor Piazzolla, Irène Schweizer
Text Francesco d'Assisi, Ferrer/Terenzi, Biagio Marin, Plinio Martini, Alberto Nessi, Violeta Parra, Fernando Pessoa
Camera Hans-Toni Aschwanden, Patrick Bürge, Joder Machaz, Willy Schild, Michele Strauss, Roni Ullmann
Assistant Nicole Leu
Sound Thomas Diemer, Max Fahrni, Paolo Logli, Giuseppe Palmieri
Lighting Riccardo Pasquali, Urs Schmid
Editing Hans-Toni Aschwanden, Lucienne Lanaz, Angela Wendt
Archive material RTSI – Televisione svizzera
Postproduction Digital Cut, Berlin
RBF Filmstore AG, Zürich
Pic Film, Lugano
SYNOPSIS
La Lupa is a singer. She rediscovers folksongs from the Tessin and Italy from the last few centuries and gives them a new life. Admirably accompanied by her musicians, she has a vast range of sentiments – and takes her audience with her.
La Lupa sings, yes, but there is something else. She intensely lives her texts, she incarnates her songs. La Lupa does not give a show. She is the show. This redhead from the Tessin, with her raw, and at the same time tender, voice, evokes emotions that are normally hidden in daily life.
The film follows episodes in her life, shows her friends, her pleasure of discovering, her passion for singing, her joy of living and her love for Italian and Tessin poetry, her country and its songs.
During two years the camera observed the work carried out by craftsmen and labourers on site. The collected images, once edited, become delirious, humoristic, worrying and poetic. An experimental documentary showing a feminine and unusual perception of a building site, giving a different dimension to men's labour and their machinery.
A film where music and the sound of the building site replace the spoken word.