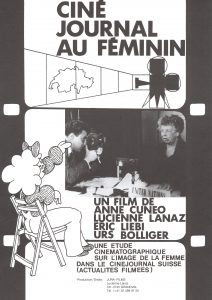 THE IMAGE OF WOMEN IN THE SWISS FILM NEWS JOURNAL
Documentary film, 1979/80 – 75 minutes – 16 mm, black/white and colour
Original versions: French or German (without English subtitles)
Sale : JURA-FILMS "Contact" (including French and German versions)
Directors Anne Cunéo, Lucienne Lanaz, Erich Liebi, Urs Bolliger
Camera Hans-Toni Aschwanden
Sound Alain Nicolet
Mixing Laurent Barbey
Lighting Marcel Schüpbach
Speakers Thérèse Bernhard, Edgar Wüstendörfer
Actress Geneviève Perret
Commentary Marlis Tschui
Music song "Femme" Jean-François Mages
Lyrics and voice song Roger Cunéo
Gastronomy Hubert Lanaz
Production manager George Reinhard
Stills Marcel Strüebi
Creation "Zoë" / animation / banc-titres Martial Wannaz
With the participation of Georges Bartels curator of the Swiss film news journal (CJS), Monica Conte Rossini, Jacqueline Cuénod and inhabitants of Aathal and Lausanne.
SYNOPSIS
The Swiss film news journal (CJS) in its current form originated at the beginning of World War Il. Its goal was to be a "psychological weapon" meant to inform the Swiss population in an objective way and, if necessary, to "reinforce their spirit of independence and will of defence". It considered itself as an "essential addition to written and verbal information" .
In its 35 years of existence, the CJS attained the impressive size of 280000 metres in 3 languages and is divided into approximately 9 000 subjects, covering a large field of subjects.
We were curious to see what place the CJS attributed to women. Housewife? Star? Sportswoman? Queen? Soldier? Or were they perhaps not represented at all? Who shows them? How, and why?
The film, based on the original material as well as through research and statistics, tries to answer these questions related to the subjects discussed.
The film in part retraces the authors' steps in their search for women in the news and in part the methods used (sub-consciously but no less constant) by many CJS filmmakers.
Through presenting relatively abundant and undoubtedly representative material, it tries to throw light on the kind of image successive filmmakers had of women.
Parallel to this study the film also leads to reflect on the media and the way it is used.